Ready for a unique, sunrise yoga experience while overlooking one of the most picturesque views in the world? Tulasi Adeva offers this chance to practice in Paradise twice a week on the north shore of Kauai, Hawaii.
This outdoor yoga event starts at the Makai Golf Course Pro Shop. After a short golf cart ride, students arrive on a Princeville bluff overlooking Queen's Bath and Hideaway's Beach. In the distance is Bali Hai (Makana), a mountain protruding above Haena State Park, popularized in the movie, South Pacific.
During the winter months whales can often be seen spouting from the bluff. Albatross sometimes wander by from November to June, and light rain just might provide practitioners with a rainbow or two. It is always pleasant to practice yoga when the trade winds, coming off the ocean, help to keep one cool.
Tulasi welcomes yoga practitioners of all levels. She explains the outdoor environment this way, "There is nothing quite like practicing outside with expansive views & a light breeze on a beautiful Hawaiian day to help you sink into the moment & savor your time on island! As a born and raised Kauai girl, life long nature lover & Yogini, I've been teaching for over 10 years & sharing nature based yoga through group & private classes, teacher trainings, & immersive retreats. Yoga & nature both extend sincere invitations to reconnect & reset in an increasingly frantic world, so come breathe, move, connect & feel good!"
Class concludes with an invitation to have (yoga) photos taken to playfully capture the beauty of the moment. The experience wraps up with a return to the carts where ice cold water is waiting, followed by a ride back to where you started, hopefully more centered and awake than when you began!
Sunrise Yoga Details:
Sunrise Yoga at Makai is offered on Mondays and Wednesday from 7:45 to 9:00 (meet at the Makai Pro Shop at 7:30). Class is $20, paid at the beginning or end of class. Cash is preferred, but all major credit cards or venmo is accepted. There is a three student minimum to hold class. Yoga mats and hand towels are included in the price. No classes are held on rainy days.
Review: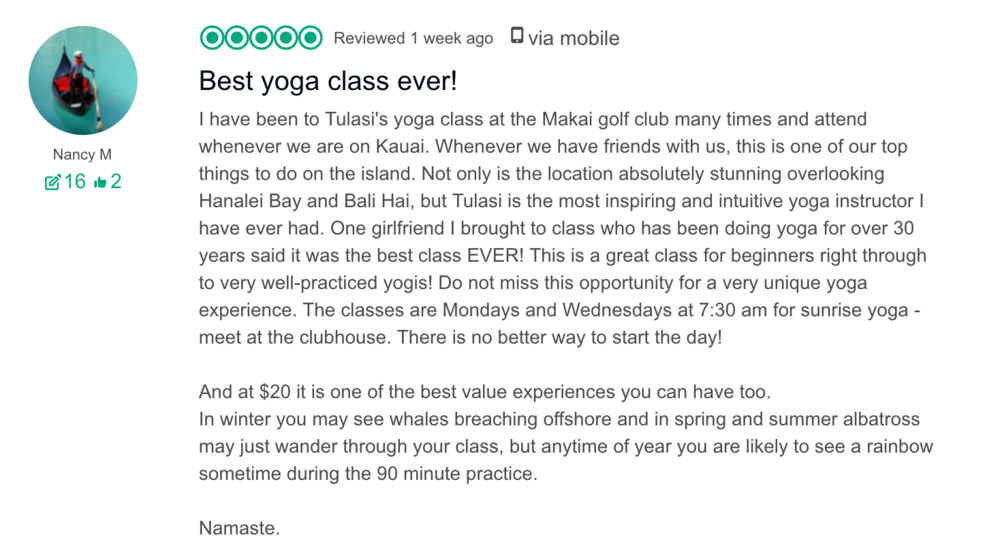 For more information about Tulasi Adeva, or to register, visit her website, www.learnhealcreate.com. She is also available for private yoga instruction.
Phone: (808) 212-7470
So, if you are visiting the Garden Island, or you are lucky enough to live here, Sunrise Yoga seems like a great way to start your day. Enjoy!
For more of my blogs or to subscribe, go to the right-hand side of this page (not phones). For more information about our luxury vacation rental on the north shore of Kauai, go to any other page of this website. We would LOVE for you to follow us on Instagram. Mahalo!